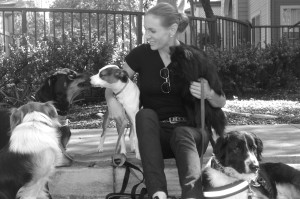 Kirsten Bailey grew up on the Peninsula in the Bay Area and is The Calm Dog's founder, owner and canine behavior expert. Kirsten has trained dogs and horses for her entire life and has many years of equine and canine training experience. Kirsten recognizes temperament, disposition and drive in all breeds but focuses on training family dogs with a balanced training approach. Kirsten is passionate about optimizing a dog's potential and she has the skill, temperament and expertise to train even the most difficult dog.
Kirsten currently owns a young Belgian Malinois and one Australian Shepherd but has owned many dogs over the years.

Because of Kirsten's international competition career with hoses, she was long-listed for the U.S. Olympic Dressage Team in 2006 and 2007. She has, however, decided to focus solely on helping dogs and their owner(s) to get along, go most places together, and enjoy their peaceful coexistence together.